2X
More engagement
+900
Virtual Experiences
+1 Billion
monthly active users
What is Google Street View
Google Street View – Trusted is a premium quality, 360-degree interactive virtual tour of your business powered by Google Maps. With Google Street View, your customers can walk inside your business and see the ambience of your installations. Google Street View can be performed only by Google Trusted Photographers, and we are one of them. We are located in Maryland, USA but we work world-wide.
Google Street View Double Interest in your business
Customers between 18-34 year-old in particular are 130% more likely to book based on a virtual tour

Stand Out In Search Results
Our High Dynamic Range processing adds details both shadows and highlights making the image evocative and so much more than a normal photograph. By replicating the experience of the human visual system, HDR processing uses a full 'set' of images to get the desired luminance and depth that makes the image memorable.
Get higher visibility on Google
When you get a Google Virtual Tour for your business published, you increase the visibility of your business across all Google platforms. Apart from increasing the visual impact of your Google My Business listing, it will also appear in organic searches and Google Maps. This tour can also be integrated with your social channels and embedded in your website.
Boost Your Conversions
Increased visibility of your business among top search results is directly proportional to the increase in footfalls to your business. Over 34% who view your listing on mobile and 50% who view your listing on a smart phone are likely to visit your store within a day! Imagine the customers you'll lose if you don't have a great listing!
Google Street View
For Business
Those who view a listing with a virtual tour are twice as likely to be interested in booking a reservation there. And among 18-34 year-olds in particular, prospects are 130% more likely to book based on a tour.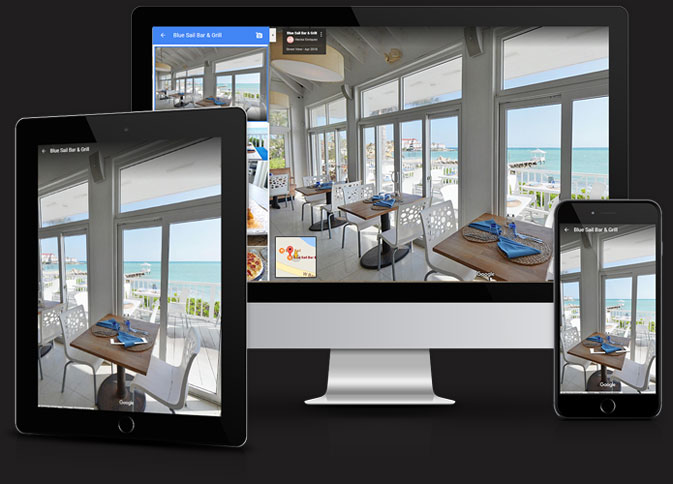 Have multiple properties? No problem.
We work world-wide, we can schedule yout Google Street View for Business in any part of the world.
Very Affordable.
The best tool to engage customers today.
Get double of visitors.
Some Clients